Louis Marx
Louis B. Marx -- born August 11,1896 in Brooklyn New York-- passed away on February 5, 1982 at his home in Scarsdale, New York.
Mr. Marx, at the age of fifteen, began his career in the toy market and, because of his genius, became a millionaire at the age of twenty four. In 1955 Mr. Marx was known as the Toy King and his company was the largest maker of toys in the world.
DAVID H. MARX 1900--1986
David H. Marx 1899 - 1986 passed away in Palm Beach, Florida on February 13, 1986 at his residence at the age of 86. Mr. Marx was co-founder of the Louis Marx Toy Company with his brother, Louis B. Marx. David served on the advisory committee of the Chemical Bank and was a member of the Hollywood Golf Club in Deal, New Jersey. The Marx Company was started as a two man business in Manhattan, New York. David Marx was the financial officer of the company. Mr. Marx was a contributor to many charities particularly childrens orginizations. Mr. Marx is survived by his wife Charlene and four children -- Charles D. Marx of Rumson, New Jersey, Marlene A. Twaddell of Providence, Rhode Island, Pamela Loxton of New York City and Clara L. Dale of Locust, New Jersey. Twelve Grandchildren also survive.
Well Known Artist & Teacher Roy B. Ahlgren, age 83, of Harborcreek, passed away Friday, February 4, 2011 at Select Specialty Hospital. He was born in Erie on July 6, 1927, son of the late Agnar and Annie Ahlgren. Roy received his BS degree in Education from the University of Pittsburgh. During the 1960's he worked as an artist-designer for the Louis Marx Toy Company in Erie.

Walter Nisperly
Walter E. Nisperly (July 27, 1914 – March 1, 1987) started in the Model Room of the Louis Marx & Co Toy Company in Glen Dale, West Virginia in February of 1939, after leaving the Fostoria Glass Company in Moundsville, WV. Walter was born with a design and mechanical skill. As a young boy in 1931 he designed and built a model glider airplane that won the endurance contest at the Wheeling YMCA for staying in flight for the longest time. In high school in 1933 he designed and made a poster bed in his vocational class and this bed is still being used today in his son's house. Not long after he started with Louis Marx & Co he was promoted to be in charge of the Model Room where he had many model makers and artists working with him in the model room. He would make frequent trips to the offices of the Louis Marx & Co in New York where he would have meetings Mr. Louis Marx and his staff concerning the design and development of toys to be produced at the Glen Dale plant. During World War II the Glen Dale plant was converted to manufacturing shells for the Army. The blueprints for the 75mm shells and other shells were drawn by Walter and these blueprints are now in a local toy museum.
Quaker Oats Co., after purchasing the Louis Marx& Co., closed the Glen Dale model room in 1973 and Walter was transferred to the purchasing department. After Dunbee-Combex-Marx purchased the company from Quaker Oats, Walter retired to spend time with his wife and travel.

William Kalsch

William J. Kalsch 91, formerly of Erie, died November 27, 2006, at Wesbury Retirement Community, Meadville, Pa., surrounded by his family, following a short illness. He was born in Cleveland, Ohio May 1, 1915, a son of the late John Sr. and Isabelle Dobbi Kalsch. Moving to Erie, in 1932, he married Dorothy Foissett December 14, 1939. She preceded him in death April 30, 2002. He was employed by the former Marx Toy Co., as a Plant Superintendent, retiring in 1974, after 38 years of employment. He was very active, living and spending time with his family in Meadville, since 2002.

We have mentioned our Uncle Bill many times and this is another MARX FAMILY STORY!!!

The chief carver for MARX was -- Kermit Hawkins --this man was a master. From storys told us, he could be given an idea and produce a master from just his mental picture. Kermit was personal friends with Uncle Bill and asked him if he would like bust carved ? Mr. Hawkins had done one of LOUIS MARX previously (( It's location is unknown to us )) and the carving started. Uncle Bill would go to Kermits house for sittings and after a period, what you see in the pictures is the finished product. Mr. Hawkins made ONLY these two.

THIS IS AN EXPOSE' not even LOUIS knew of this project let alone the employees !!!!!!! This is one of the many Marx Family stories.



Frank X Rice
Francis X. Rice of Blacksburg, Virginia, formerly of River Edge, New Jersey, beloved and loving husband of Frances (Rusty) Rice, for nearly 60 years. Loving father of Lorraine and husband Donnie Wachsman, of Pembroke, Virginia, Patricia Rice of Sherman Oaks, California, and Theresa and husband Richard Wiley, of Hewitt, New Jersey. Grandfather of Amanda Wachsman Tickle and husband Aaron Tickle, Daniel Wachsman, and Rachel Wiley. Dear brother of George Rice of Media, Pennsylvania, and brother of John, Peter, Margaret, Owen and Elizabeth Rice, all deceased. Graduated from Fordham Preparatory and Fordham University, New York, with a BA in History. Veteran of World War II, Captain, U. S. Army. Past Grand Knight and charter member of Msgr. Burke Council, Knights of Columbus, River Edge, New Jersey. Trustee and founding parishioner of St. Peter the Apostle Church of River Edge, New Jersey. Vice President, Research and Development, of Louis Marx Toys and Ideal Toys. President of FR Associates, sales and marketing new products for the toy industry. Funeral services will be held in River Edge, New Jersey on Saturday, December 30, 2006. Local arrangements by McCoy Funeral Home. Memorial service at St. Mary's Catholic Church at a later date. The family wishes to express gratitude to the staff of Fresenius Dialysis Center of Blacksburg, and the nurses of Montgomery Regional Hospital PCU/ICU for their excellent care.

S. E. Liden
S.E. "Gene" Liden started with the Louis Marx & Co. in Erie, PA in 1924 and in 1934 transferred to the Marx plant in Glen Dale, WV as superintendent and in 1951 became plant manager at Glen Dale, succeeding E .E. Knutson, who also came from the Erie plant. He retired from Marx after 47 years on January 14, 1972, just before Quaker Oats Co. purchased the Marx empire. He was born March 26, 1902 and passed away in November of 1977.
George L. Payne Jr. of Bath, Maine, passed away on 2 January 2007 at the Yale-New Haven Hospital in New Haven, Connecticut. He married Avanel Hicks on 23 April 1960. He lived in Ridgewood, Pa. and was a village councilman and also Deputy Mayor. Besides his wife, he is further survived by three sons- George, Thomas and Edward-- two daughters--Leslie and Avanel. Burial will be in Bath, Maine.
George graduated from Ridgewood High School and from Colgate University where he was president of Delta Kappa Epsilon for two years. He was an officer in the United States Marine Corps. Officer Payne then joined the Federal Bureau of Investigation.
Mr Payne joined the Marx Toy Co. and worked in the main offices in New York, New York. He was associated with Mr. Frank Rice and they worked together for a number of years. He also was employed by the Gabriel Toy Co.
Paul Goodwin
Paul G. Goodwin


Mr. Goodwin of Erie, Pennsylvania passed away Friday February 2, 2007. He was born in Union City, Pa. on October 19, 1916. He was the son of Gerald Goodwin and Hermina Horvath Goodwin Quinlan.
Mr. Goodwin graduated from East High School the February class of 1936. Paul was a picture framer at Kuhn's picture and gift shop. He then went to work for The Louis Marx Company, in Erie, in the Research and Development Department as a pattern maker and designer. After the plant closed, in 1977, Paul went to work for Cook-Lantzy Company as a designer of toys. Mr. Goodwin worked on designs for Tonka, Tyco and other major toy makers.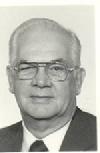 Harold "Buck" Livingston
LIVINGSTON, Harold D. "Buck", 91, of Glen Dale WV, died Saturday, April 1, 2006, at Wetzel County Hospital, New Martinsville WV.
Born in Bellaire, Ohio on July 6, 1914, Buck was the son of the late Chester Martin and Martha M. Mickey Livingston. He was a member of The Church of Jesus Christ Latter Day Saints and retired from Louis Marx Toy Co. as General Manager in 1976. After retiring from Louis Marx, he obtained his realtors license and sold real estate for Joseph Realty in Wheeling. Buck was a veteran of the U.S. Navy serving during WWII. He was also a member of the VFW Post 437, American Legion Post 3, Scottish Rite, Osiris Temple and the Masonic Lodge Marshall Union #8.
In addition to his parents, Buck was preceded in death by his wife, Rose Marie Kopcha Livingston in 2003;
three sisters, Mabel Purdy, Grace Ray and Wilma Braner.
Surviving is one son, Dan Livingston and his wife Tina of Glen Dale WV; one daughter, Debbie Lusk and her husband Dana of Proctor WV; three grandchildren, Erica L. Workman, Brad M. Workman and Christy Lusk; one brother, Earl B. Livingston and his wife Becky of
Lancaster CA; one sister, Peggy Welch and her husband David of Claysville PA.; several nieces and nephews.
Friends will be received at the Altmeyer Funeral Home, Lutes and Kirby Vance Chapel, 118 Grant Ave. Moundsville WV on Tuesday from 2-4 and 6-8 pm where services will be held on Wednesday
at 10 am. Interment will follow in Riverview Cemetery, Moundsville WV. Memorial contributions may be made to the Alzheimer Association, 1299 Pineview Drive, Suite 3, Morgantown WV 26505 or Glen Dale Vol. Fire Dept. 402 Wheeling Ave. Glen Dale WV 26038.
Raymond "Ray" J. Lohr:
Raymond "Ray" J. Lohr, 93, of Millcreek Township, died Monday, October 3, 2005 at the Pennsylvania Soldiers & Sailors Home in Erie, Pa. He was born on September 28, 1912 in Cincinnati, Ohio, the son of the late Phillip and Lottie Bolden Lohr.
He attened classes at Xavier University and enlisted in the US Army Corps in 1941.He married his wife Vilma Treo, of Harrisburg, Pa. in 1941. He was honorably discharged with the rank of Captain at the close of W.W.II in 1946. He received the Purple Heart.
Ray was employed as a mechanical designer by Louis Marx Co. in 1935 and was retained by Louis Marx through W.W.II.He retired as Chief Toy Designer with 37 years of service, in 1972.His significant professional accomplishments included hundreds of mechanical patents for Louis Marx, and he was given credit for designing and conceiving the MARX BIG WHEEL and the ROCKEM-SOCKEM ROBOTS.
Ray is survived by one son, Phillip Lohr, of Erie, Pa. Three Grandsons, Ryan, Murray, and Adam Lohr. Three Great Grandchildren, Brie Anna, Madilynn and Benjamin:
Interment was at Laurel Hill Cemetery with military honors
Richard N. "Dick" Carver:
Richard N. "Dick" Carver, 82, of 3110 Shannon Road died Tuesday February 9, 1999. He was born in Akron, Ohio, September 25, 1916, son of the late Fred and Naomi Olsen Carver. A member of Wesley United Methodist Church. He was preceded in death by his wife of 50 years, Ruth M. Dougan Carver, in 1992. He retired from the Marx Toy Company in1975 as the Supervisor and Chief Designer in the Model Room.
Please read Dick's personal life story below as told by his brother Ralph Carver:
Richard Dick Carver was born in Akron, Ohio, but, when quite young, his family moved to Erie,Pa. He attended Burton School, Wilson Junior High School and Erie Technical School. He majored in math and sheet metal work and graduated in 1934. It was during the Depression and he thought this training might help him obtain a job. Dick applied for work at many firms including the Marx Toy Company.
He was 17 in the summer of 1934 when he was hired by Mr. Ray Lohr to work, in what was known as, the "Model Shop", later reffered to as "Research and Development" in the Marx plant at 18th. and Raspberry Streets. Excluding work as a paper boy, this would evolve as his first and only full time job and he remained at the Marx Toy Co. until 1976.
Dick was one of those individuals who loved his work with a passion,working a five and one half day week for most of his 34 years at Marx. He was involved in many of the well known Marx toys. He became Supervisor of the Model Room under Ray Lohr. One of his specialties was the design and development and trouble shooting the mechanisms of many of the wind up and action toys. Dick's name appears on many of the original Marx patents. His whole life involved MARX TOYS, and he was so proud of the part he played in their development.
Martin Joseph Condry Retired Toy Designer , 76, 5 Zodiacal Place, Palm Coast, Fla., passed away peacefully at home September 27, 2007. Marty was born November 28, 1930, in Erie, Pennsylvania. Son of the late Ruth (Zirkelbach) Condry. He started his professional career at Marx toys in the early 1950's. He worked closely with Cal Cook, Jim Smith, and the late Raymond Lohr in the art and design department at Marx Toys. He designed and developed many of Marx toys from the earlier days. When Marx Toys closed their doors, he moved to Philadelphia and became Vice President of Sales and Marketing for Illco Toys. He spent most of his time in New York City and the Orient before his retirement in 1987, when he and his wife relocated to Palm Coast. Joe, as his family called him, was preceded in death by two brothers, Gerald (Buddy), and James Condry, and one sister, Ruthanne (Samuelson) Arnold. Survivors include his wife of 19 years, Heather (Helen), one son Daniel of Erie, Pa., one daughter Karen Dougherty and her husband Michael of McKean, Pa., his wife's children, Jonathan Loughran of Beverly Hills, California, Kimberly Loughran of Philadelphia, Pa., three grandchildren, Kelly Dougherty of Invercargill, New Zealand, Michael Joseph Dougherty of Indiananpolis, Ind, Patrick Dougherty and his wife , Jessica of McKean, Pa., and their daughter, Ryleigh, his only great-grandchild. He was also survived by two nieces, Linda (Samuelson) Foley and her husband Mike, and Debbie (Samuelson) Robertson and her husband Richard, and several great nieces, nephews and cousins. A memorial service will be held in Erie at a future date.

Charles "Chuck" Davis., 94, of Jim's Run, McMechen, W.Va., died Saturday, January 12, 2008, in Belmont Community Hospital, Bellaire, Ohio.

Mr. Davis born November 26, 1913 in Shadyside, Ohio.

He was the oldest living retiree of Louis Marx Toy Plant in Glen Dale, WV, where he was a tool and die maker. He was very knowledgeable about the history of the Louis Marx plant in Glen Dale as he started working for Marx Toys in the late 1930s He was a frequent guest speaker at the Marx Toy Conventions held in Wheeling. He attended the First Church of God, McMechen, WV and was known to all as "The Tool Man" at the Glen Dale Flea Market, of which he helped start and was affiliated for over 35 years.

Mr. Davis was preceded in death by his loving wife of 65 years, Elizabeth (Ebbert) Davis in 2000 and a son, Charles F. Davis.
Surviving are his daughter, Virginia (Fred) Brautigan of Glen Dale; a son, Jim (Carol) Davis of Cambridge, Ohio; and 11 grandchildren and 26 great grandchildren.
Friends will be received from noon-8 p.m. on Sunday, and from 8 a.m. until time of funeral services at 1 p.m. on Monday, January 14, 2008 at Altmeyer Funeral Home, Benwood-McMechen Chapel, 214 Marshall Street, McMechen, WV.

Online condolences may be offered to the family at www.altmeyer.com.


Alvin Neidermeyer
NEIDERMEYER, Alvin Adolph, 94, of Benwood, W.Va., passed on Wednesday, February 2, 2011 at Reynolds Memorial Hospital with his family at his bedside.
Alvin was born March 22, 1916 on the Neidermeyer Family Farm. He was the youngest son of Adolph A. and Florence E. Neidermeyer.
In addition to his parents, Alvin was preceded in passing by his wife of 67 years, Opal G. "Johnnie" Neidermeyer; a still-born son; his siblings, Alta Black, Irma Fisher Moore, and Roy Neidermeyer.
Alvin is survived by his son and daughter-in-law Adolph and Ellen; two granddaughters and their husbands Dr. Presha E. Neidermeyer and husband Dr. Davide D. Cervone and Mandy N. Carlson and husband Dr. Jay Carlson; two great-grandchildren, Eliza Grace Carlson and Jack August Carlson.
He retired from Louis Marx Toy Company in 1978 after 31 years of service. Alvin was proudest of his service during the latter part of his career when he was foreman in the plastic moulding department directing the production of the very popular "Marx Big Wheel". He was affectionally nicknamed "The Toy Man" by his two granddaughters.
Alvin was the consummate son, husband, father, and granddad. Throughout his youth and adult life he balanced his active employment with his full-time partnering with his Dad in the operation of the Neidermeyer Family Farm, where the two supplied garden produce and milk products to customers in Benwood and McMechen. Alvin was active in this role until his father died in 1973.
Alvin and Opal shared 67 years together. They both were engaged in providing parental care in their later years and, subsequent to the passing of both sets of parents, they enjoyed many trips with their senior groups to many interesting vacation spots.
Alvin was a proud dad and an avid supporter of his son's employer, WVU. Alvin and Opal attended all the home football games at WVU until health restrictions forced both to resort to following the team on television. They both enjoyed many bowl trips while following the Mountaineers.
Alvin and Opal were proud grandparents and they enjoyed their opportunities to sit with their granddaughters while Adolph and Ellen were on trips. The "foursome"- Mandy, Presha, Grandma and PaPa had very enjoyable games of bunco, dominoes and "Old Maid" after dinner out at Long John's or Pizza Hut.
Private services will be held at the convenience of the family at Grisell Funeral Home & Crematory, 400 Jefferson Ave., Moundsville.
Entombment in Halcyon Hills Memorial Park Mausoleum.
Memorial contributions may be made to Rockefeller Alzheimer Institute, c/o WVU Foundation, 1 Water Front Place, Morgantown, WV 26506.
Sympathy expressions at grisellfuneralhomes.com.